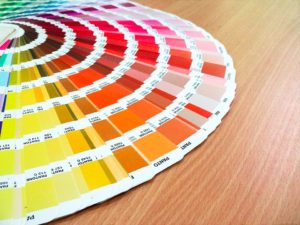 Being in the screen printing industry we get a lot of different requests for custom orders. Luckily with screen printing the possibilities are practically unlimited!
Most customers have a set idea of how they want their garment to look. Most of those requests can be taken care of without difficulty. Matching a specific color on the other hand can be more difficult than most people realize.
Color Matching:
When it comes to matching colors we rely on the Pantone Matching System (PMS). The universal color matching language. Pantone offers chip books that help designers see how colors look on different stock. PANTONE colors are distinguished by numbers and a suffix. While the number indicates the PANTONE Color itself, the suffix indicates the media or stock. Different stocks affect how the ink is formulated to achieve the specific color.
One thing we hear a lot is that the color that is displaying on the customers monitor doesn't match what was printed. When choosing colors please keep in mind that all computer monitors display a little different. If you want it to be exact then we recommend that you come in and check out our PMS book. Or send us the specific PMS number if you have your own book.
Using PMS we can discuss specific colors with our customers. Ensuring that they are getting the color that they want. Unfortunately even with using the Pantone Matching System we cannot guarantee that the color will be an absolutely perfect match. There are a lot of factors that go into the final print color of a garment. We will go over what could affect the color of your print with you when you order.
If you have any other questions in regards to how we match colors CONTACT US.